It's no secret that caregivers sacrifice a lot to care for the people they love. But a survey commissioned by Pria in honor of National Caregivers Day (February 19, 2021) showed just how many sacrifices they actually make.
The survey, which was conducted online by The Harris Poll among over 1,600 U.S. adults who have provided care for a loved one*, found that 41% of American caregivers say they have sacrificed their own mental or physical health to provide care to a loved one who is unable to care for themselves. And in addition to sacrificing their own mental and physical health, caregivers are also making major sacrifices across all aspects of their daily lives.
61% have sacrificed time with others
48% have sacrificed sleep
46% have sacrificed leisure time for activities such as reading or watching TV
33% have sacrificed time for exercise
31% have sacrificed healthy eating
31% have sacrificed their own personal care
The impact of being a caregiver can even be felt in one's career and finances, with 34% of caregivers reporting making monetary sacrifices such as money spent on groceries, medical needs, gas or parking, and 27% admitting to sacrificing responsibilities at work.
Being a caregiver requires sacrifice, but those sacrifices are made because the job is rewarding. They're happy to help make their loved ones' lives just a little bit easier, but it's always nice to be thanked. If you're unsure how to thank the caregiver in your life, here are some ideas to get started!
Thank your caregiver with a gift card
Regardless of the monetary value, a gift card is a thoughtful way to say thank you – and the possibilities are endless. Caregivers are always on the go, so a gift card to their favorite café or coffee shop would offer a welcomed pick-me-up. You also can't go wrong with a gift card for a massage, manicure or haircut. As the survey showed, many caregivers have sacrificed their own personal care in order to take on the role, so giving them the opportunity to get pampered is a great way to say thank you.
Home cook a meal for your caregiver
They say the way to someone's heart is through their stomach. And it's true. So, when it comes to making someone feel special, nothing does the trick like a home-cooked meal. Whether it's a five-course dinner or a quick pasta with gravy, showing your appreciation through food is as thoughtful as it is delicious. If you want to take it a step further, whip up a batch of homemade baked goodies because, well, who doesn't love those?
Make a charitable donation on behalf of your caregiver
Another great way to say thank you is through a charitable donation. Big or small, a donation in your caregiver's name to their charity of choice can be your way of paying it forward.
Handwrite a thank you note to your caregiver
Sometimes, the best way to say thank you is to put your thoughts in a letter. It can be hard to verbalize your appreciation, so a thoughtful, handwritten letter is a nice way to express your feelings. Start on a scrap piece of paper and work through different drafts until you're happy with it. Then, transcribe the letter into a nice thank you card. Whether you give it to them to read aloud, send them home with it to read in private or mail it directly to their home, they'll surely be moved by your appreciation.
Caregivers sacrifice a lot to provide care to their loved ones, but they do it because the people they care for are incredibly special to them. Saying thank you – in whatever way you choose – can be your way of showing them just how incredibly special they are to you.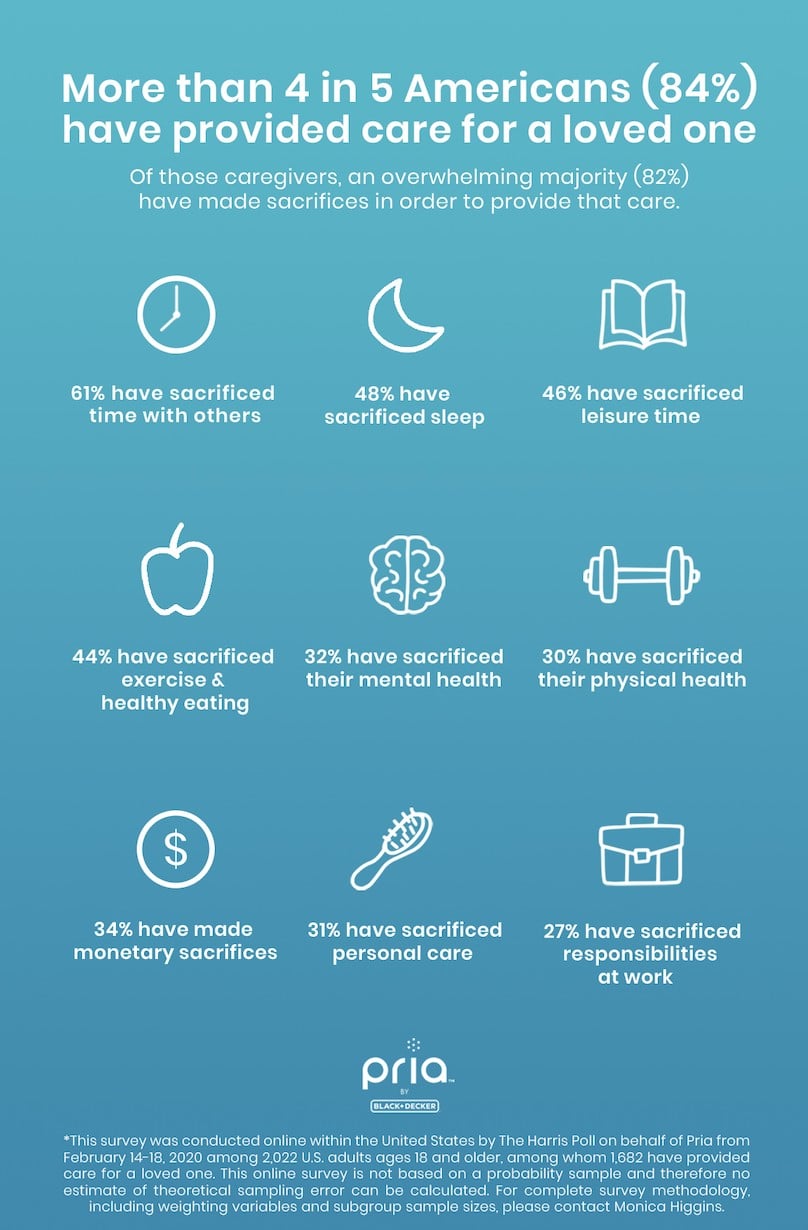 * This survey was conducted online within the United States by The Harris Poll on behalf of Pria from February 14-18, 2020 among 2,022 U.S. adults ages 18 and older, among whom 1,682 have provided care for a loved one. This online survey is not based on a probability sample and therefore no estimate of theoretical sampling error can be calculated. For complete survey methodology, including weighting variables and subgroup sample sizes, please contact Monica Higgins.